anything
..........................
............................
.........................
anything
...........................
.............................
...........................
anything
............................
..............................
......................
anything
...........................
.........................
...........................
currently known as COMOT
what do my close buddies call me?
mel
: puan, la~zelia
mahesh
: eelz
sha & the gang
: naz (honestly i hate this one)
the rest
: just plain ol' elia
my matahari
: that's a secret *wink*
i'm not a sexybomb, i'm just ..
+
potentially malignant medical student
+
psychogenically dependant on music
+
loves the sound of the guitar
+
have strong feelings towards everything
+
easily distracted
+
hates rules
+
responsible for own actions
+
hates being envious
+
imaginative
+
good sense of humour
+
likes to be loved (honestly who doesn't?)
+
finds it hard to trust someone
+
easily hurt
♥tag in baby♥
♥mp3♥
+
KENT-protection
+
THE BRILLIANT GREEN-angel song
+PLACEBO-every you every me
+MUSE-sing for absolution
+MY CHEMICAL ROMANCE-you know what they do to guys like us in prison
+INCUBUS-a certain shade of green
+DASHBOARD CONFESSIONAL-the places you have come to fear the most

♥music to my ears♥
placebo
kent
the brilliant green
incubus
dashboard confessional
the cure
radiohead
all saints
alicia keys
usher
fullmetal alchemist OST
cokelat
gerhana ska cinta
♥my eyecandy♥
bleach
naruto
one piece
gakuen alice
konjiki no gash bell
school rumble
samurai champloo
yakitate japan
tactics
shin chan
desperate housewives
one tree hill
SATC
♥MySpace♥
add me here!
♥tomodachi♥
♥linky-link♥
|
radiohead
|
|
kent
|
|
jimmyeatworld
|
|
incubus
|
|
cokelat
|
|
muse
|
|
neopets.com
|
|
punktorrent
|
|
naruto
|
|
animesuki
|
Copyrights
site 2005©
e l i o
site design/layout 2005©
mel
the Banshee Vampire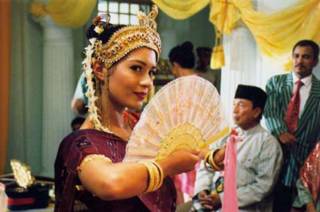 the primadona

It has been more than 10 years since a movie of horror genre is allowed to be produced and screened in Malaysia. But when this movie called, Pontianak Harum Sundal Malam which recently being screened at local cinema, my head filled with curiosity. I want to know further about this movie and how far it can go without strict sencorship from Malaysian gov. Ain told something which i never take notice before. To produce a horror genre movie, certain guidelines must be followed to avoid religious sensitiveness :
1) The producer can make horror movie BUT the content of it must imply DREAM element.
2) Others like : ~ It must not be too 'scary'
It must not be too gruesome or violent
It must not be too bloody
It must adhere to religious sensitivities like not showing dead body rising from a grave
There should be a noble gesture at the end or an element of 'good' or 'positivism' at the end of the film.
Well, i shall say that it is a very tough guideline. It would be unfair to give audience a 'waking from sleep' sequence followed by typical "owh, i wus actually dreaming" dialogue. For me, Suhaimi Baba is a very creative director. She would have make this movie better if these guidelines were never existed. She's one of local director whom i respect as creative minded one and for PHSM, i shall give her a 'thumbs up' ( except for the "pontianak mengilai" part where i regard as "lion roar" sound ). Here's the review...
The Past- 1947, Kampung Paku Laris
The primadonna Meriam, a gamelan dancer is well known in the town of Paku Laris. Meriam wins the hearts of many admirers and is revered for every performance in town as well as in the Palace. The 'Bunga Sundal Malam ' (Tuberose) is her trademark symbolizing her grace and mesmerizing beauty. The audiences also look forward to her famous dance where she is able to 'float' on the canang. Marsani and his close friend Danial are among the many admirers who compete to win Meriam's heart. However Meriam chooses Danial for a husband instead of the more powerful and handsome Marsani. With his ego bruised, Marsani burns with jealousy and continues to obsessively pursue Meriam.
Pregnant with her first child, Meriam is found laying in a pool of blood by Laila and Sitam, her loyal friends. Marsani is devastated by Meriam's tragic death. On top of that, Danial's life is also taken when his boat sinks at sea during a storm. Strange happenings begin to occur in the town of Paku Laris. Many families and friends connected to Marsani are killed. The villagers begin to accuse Meriam of having dabbled in black magic and has now returned as a 'Pontianak'.
The Present- 2003
Marsani continuously hide behind his guilt and holds a dark secret that torments him up to the present day. Marsani lives out his old age in constant fear awaiting Meriam's return. He is convinced that Meriam is out to destroy his entire family line. He stays young and fit through ozone treatments and plastic surgery in preparation of having to face Meriam. The deranged Asmadi is used to his uncle's paranoia and nightmares.
Norman, Marsani's grandson is marries to Ana who opens a cafe and employs Maria as one of her workers. In Marsani's eyes, Maria resembles Meriam and thus becomes his latest obsession. He is convinced that Meriam is back for revenge and Norman and Anna will be her next victims. Working as an engineer, Norman and his workers discover a burial site during an excavation. Soon after this, Norman falls ill and Marsani finds that his family is under threat again when continuous strange sightings are spotted around Paku Laris. Maria starts to experience a change overcoming her personality and feels she is no longer Maria. She becomes petrified when Marsani discovers a mark on the nape of her neck and accuses her of being a 'Pontianak'.
The constant scent of the 'Bunga Sundal Malam' (Tuberose) and the discovery of a chest of old artifacts belonging to Marsani lead to peculiar incidents at Anna's house, causing a strain on Norman and Anna's marriage. Marsani and Asmadi try to warn Norman and Anna that Maria is Meriam who has returned as a 'Pontianak' to avenge the family however Norman and Ana are not convinced.
Marsani in the end forces Maria into a final confrontation.
p/s: i dont want to put maya karin's pontianak post cos she does look quite scary ;p
miss comot @ 5/25/2004 12:33:00 AM
|
[[ 2005(c) E L I O @ misery is a butterfly ]]

//-->