anything
..........................
............................
.........................
anything
...........................
.............................
...........................
anything
............................
..............................
......................
anything
...........................
.........................
...........................
currently known as COMOT
what do my close buddies call me?
mel
: puan, la~zelia
mahesh
: eelz
sha & the gang
: naz (honestly i hate this one)
the rest
: just plain ol' elia
my matahari
: that's a secret *wink*
i'm not a sexybomb, i'm just ..
+
potentially malignant medical student
+
psychogenically dependant on music
+
loves the sound of the guitar
+
have strong feelings towards everything
+
easily distracted
+
hates rules
+
responsible for own actions
+
hates being envious
+
imaginative
+
good sense of humour
+
likes to be loved (honestly who doesn't?)
+
finds it hard to trust someone
+
easily hurt
♥tag in baby♥
♥mp3♥
+
KENT-protection
+
THE BRILLIANT GREEN-angel song
+PLACEBO-every you every me
+MUSE-sing for absolution
+MY CHEMICAL ROMANCE-you know what they do to guys like us in prison
+INCUBUS-a certain shade of green
+DASHBOARD CONFESSIONAL-the places you have come to fear the most

♥music to my ears♥
placebo
kent
the brilliant green
incubus
dashboard confessional
the cure
radiohead
all saints
alicia keys
usher
fullmetal alchemist OST
cokelat
gerhana ska cinta
♥my eyecandy♥
bleach
naruto
one piece
gakuen alice
konjiki no gash bell
school rumble
samurai champloo
yakitate japan
tactics
shin chan
desperate housewives
one tree hill
SATC
♥MySpace♥
add me here!
♥tomodachi♥
♥linky-link♥
|
radiohead
|
|
kent
|
|
jimmyeatworld
|
|
incubus
|
|
cokelat
|
|
muse
|
|
neopets.com
|
|
punktorrent
|
|
naruto
|
|
animesuki
|
Copyrights
site 2005©
e l i o
site design/layout 2005©
mel
Life is a game
What would you do if you had to kill a friend? The answer to that question is a deeply personal one, with a number of choices that are hard to accept. But what if you had no choice in the matter and your friend would kill you if you didn't kill him first? Think you'd have the guts to take a life? This is but one aspect of the emotionally exhausting modern-day pulp classic Battle Royale.
Have u seen Battle Royale or Battle Royale 2 before? Well, if u dunt, i suggest u to go and grab the DVD at the nearest store. Ive watched it few times for BR 1 and only once for BR 2. I would rank this movie as bravo.
battle royale

Though not a horror story in any traditional sense of the word, the movie was disturbing enough to make even the judging committee squeamish.Battle Royale, a film by the veteran Japanese director Kinji Fukasaku, tells the story of a dystopic future in which each year, a randomly-selected 9th grade class is kidnapped and sent to a deserted island where they are equipped with weapons and are forced to kill each other until one survivor is left. The movie, which premiered in Japan in 2000 amidst much controversy, is based on a bestselling novel by Koushun Takami (i just got to know that this is based on the novel .. double bravo!!)
The students are taken to a secluded school building, and in the case of the 42 students of Shiroiwa Junior High School's Class B Third Grade they are taken to the Island of Kyushu, where they are strapped with explosive steel collars. From there, Mr. Kitano, a fiendish bastard of a man (who's also their school teacher)and this particular game's chief supervisor, instructs the class on the basic rules of the game. They will be given a backpack containing a map, flashlight, bread, water, and a randomly chosen weapon with ammunition if needed, and set free upon the island to kill each other in the period of three days. However, if no one dies within 24 hours, then all the collars will automatically explode. Danger zones are added, with the first being the school building. If students linger in them, then their collars will detonate as well. Quite simply, the best way to put this game into words is to describe it as a deadly game of Survivor. Got the view? :)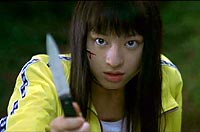 one of the scene

Now, let us come to BR 2, which was released in July 2003 even though the original director passed away in early January. I dint mention who's the survivor before but i would that Shuya Nanahara is one of 'em. It's three years after the events of the original Battle Royale, and Shuya Nanahara is now an internationally-known terrorist determined to bring down the government. His terrorist group, Wild Seven, stages an attack that levels several buildings in Tokyo on Christmas Day, killing 8000 people.
Exactly one year afterward, the government enacts the "New Century Terrorist Counter-Measure Alternative" program, a.k.a. the BRII act, and sends the forty-two students of Shikanotoride Junior High Class 3-B to hunt Nanahara and his cohorts down in their island stronghold. Shiori Kitano, the daughter of the late headmaster of Nanahara's Battle Royale, signs up for the program, to avenge her father.In order for the government to study the benefits of "teamwork," the new students work in pairs, with their collars electronically linked so that if one of them is killed, the other dies as well. They must kill Nanahara in three days--or die.
What will be the ending? U watch ...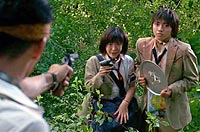 shuya nanahara;

miss comot @ 6/15/2004 05:32:00 PM
|
[[ 2005(c) E L I O @ misery is a butterfly ]]

//-->