anything
..........................
............................
.........................
anything
...........................
.............................
...........................
anything
............................
..............................
......................
anything
...........................
.........................
...........................
when two is better than one
Hey sis, i'm so proud of you and abg hazeril .. way to go!! wait till i get there too after my final year exam ... *hugs*
*source = THE STAR, 18 JULY 2004*
BY PHILIP AUGUSTINE
Hazeril Fahmi Mokhtar had two needs – to upgrade his qualifications to a degree and be with his bride. He was able to do just that by taking up an engineering course at the Dublin Institute of Technology (DIT), which put him in the same city as his wife who was pursuing an accounting degree.
That was two years ago. His interest in Ireland, he says, began when his then fiancee, Nadia Arizany Thibroni, 25, left for Dublin for her studies.
"When my wife left, I was working as an assistant engineer at a consultancy firm but I did not have a degree in engineering," says Hazeril, 27, who until then had only completed a diploma in engineering from Politeknik Sultan Abdul Halim Jitra in Kedah.
While surfing through the Internet, he came across the DIT's website where he got to know about the institute's long history in education (which dates back to 1887) and its stronghold in the different fields of engineering.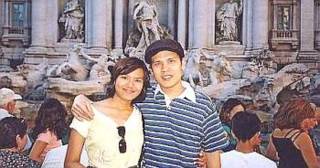 sis

"Unlike other colleges which only offer the main branches of engineering like mechanical, electrical and civil, DIT also offers building services engineering," says Hazeril, who after getting married last year decided to follow his wife back to Dublin where he is currently a second year engineering student, majoring in building services at DIT.
A taste of Ireland
Getting used to the Irish accent was one of the first cultural shocks Hazeril had to overcome. "In the beginning, I had to concentrate and listen very carefully to understand what they were saying," he says, adding that having to speak English on a daily basis has helped him improve his language skills.
"The Irish are very friendly and they are always interested in other people's culture. The lecturers are helpful and approachable and the students are an assorted lot with many coming from other parts of Europe and Asia." Needless to say, settling down in a new country was made easier with his "childhood sweetheart" by his side. "It is really good that we have each other. It also helps that we are both students and we share everything," says Hazeril.
Sharing a room meant saving on rent and cooking for two was cost efficient too.
"It took me six months to settle in and get used to living in a foreign country. Although there are many Malaysians studying here, being together has taken away a lot of the homesickness," says Nadia who is in the final stages of completing her Association of Chartered Certified Accountants (ACCA) part-time course from BPP Ireland.
While arriving in the middle of summer is well and good, the couple say, "It's not always sunny."
"The winter can be very tough and the winds are quite strong – I have already broken five umbrellas," remarks Nadia. Though public transport is not a problem and students get concessions, "Dublin has a walking culture."
With a higher cost of living, proper budgeting, she says, is essential. "We try to eat at home as much as possible because eating out is a luxury.There is an Asian market here, which has everything including durian; and halal meat is available from Arab and Pakistani shops."
Hazeril, who works part-time as a guest services staff at a hotel, concurs.
"Practically everything is taxed and it can be pretty expensive, so you better know how to cook; Irish food can be quite bland too. You learn how to be independent and acquire survivalskills."
Of course, the Irish experience would not be complete without trying out the traditional grub at a local pub. In fact, the duo occasionally hang out at their favourite pub tucking into roast beef, potatoes, and stew.
"The price is reasonable and the portions are big enough for two," he says.
Conducive learning
"I love having the college in the middle of the city, it's so convenient" enthuses Hazeril, referring to DIT's seven major centres or city campuses, which are strategically located near the city centre and are easily accessible by bus or train.
"I am very happy here and the facilities are good and the equipment industry-relevant."
He also points out that unlike the hustle and bustle of bigger cities like London, in Dublin "you can study peacefully in a very conducive learning environment."
While tuition fees in other colleges can reach up to ?13,000 (RM61,000), the cost of studying in DIT, he says, is ?9,000 (RM42,000) per year regardless of the course taken.
"The money I am able to save gives us a chance to travel and explore," says Hazeril who just like his wife, relishes the opportunity to travel within Ireland and around Europe.
They have been to Paris, London, Scotland and Rome.
"There are many cheap flights and great offers that are too good to resist," says Nadia who hopes to get a permanent job in Ireland after graduation. But the competition is stiff for good jobs.
"It's not easy to get the job you want, but the working environment here is more relaxed than Malaysia and comparatively stress-free."
While the couple still plans to settle back in their hometown in Alor Setar, they say the experience of having studied in Ireland is one they will always cherish.
"Ireland may be a long way from Alor Setar, but the exposure to different cultures is something that you don't get from books," says Hazeril.
miss comot @ 7/21/2004 07:01:00 PM
|
[[ 2005(c) E L I O @ misery is a butterfly ]]

//-->